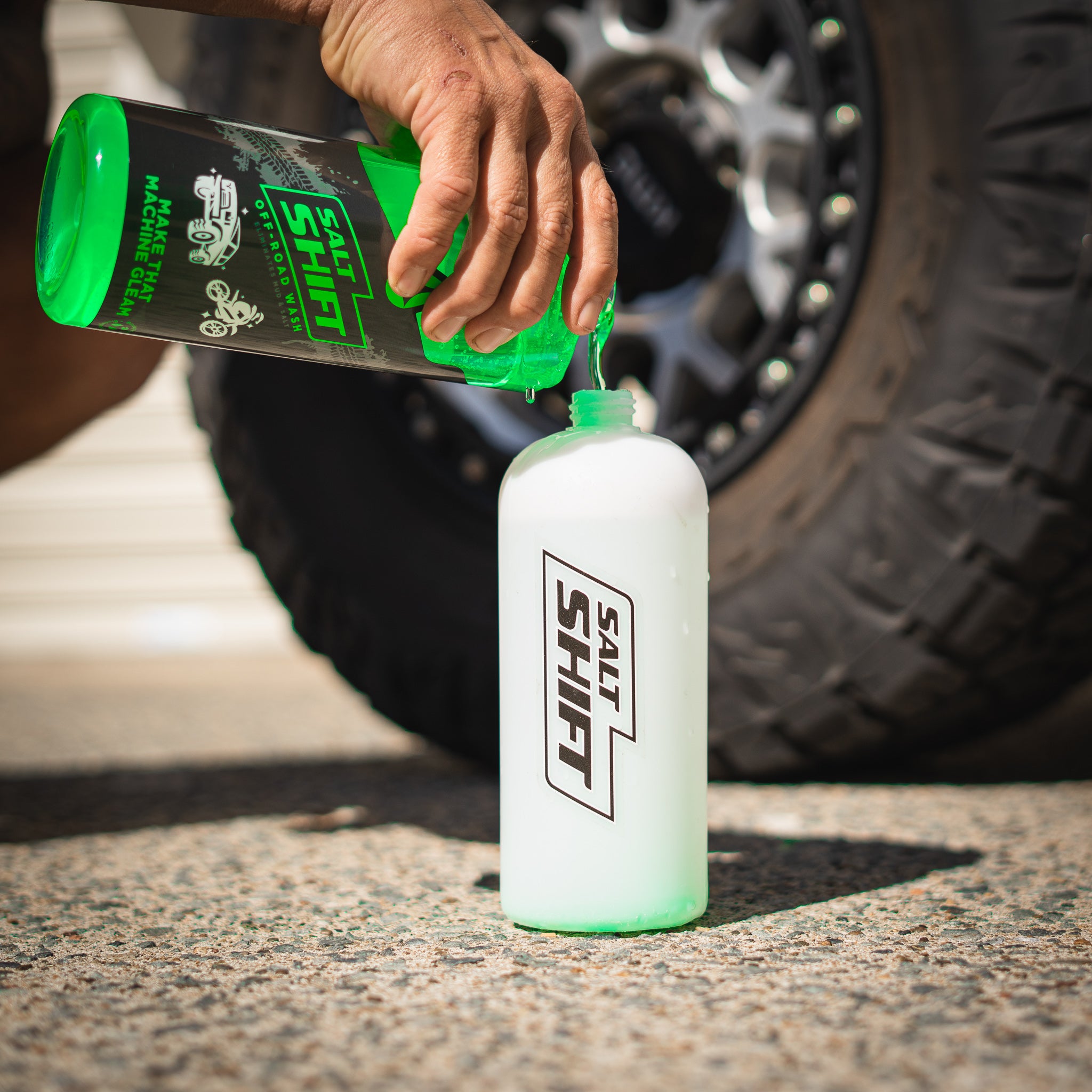 Salt Shift 1L Off-Road Wash
Get a 2-in-1, eco-friendly cleaning formula that breaks down all dirt, mud and salt in just 60 seconds. The advanced cleaning and protective properties work across all vehicle surfaces including chassis & suspension, prolonging the life of your pride and joy for years to come. Available in 1L, 3L and 5L bottles to Make That Machine Gleam! Look after your rig and it'll look after you.

Includes:
Salt Shift 1L Off-Road Wash
Features:
60 Second Contactless Wash

Snow Foam Application

Corrosion barrier protection

Safe on all ceramics and other coatings

Plant-derived ingredients*

Biodegradable | Hazard-free

PH neutral | Phosphate free
Our Formulas are proudly developed and made in Australia with Australian sourced ingredients.
*Salt Shift formulas are UV activated, do not store in direct sunlight. Formula will still perform normally if colour is lost.
The Benefits
Engineered by one of Australia's own Chemists after more than a year of extensive field testing which culminated in our premium, eco-friendly wash that offers cutting-edge cleaning benefits for 4x4's, caravans, trailers, bikes & more. 
Mud, dirt and harmful minerals are 100% dissolved by a formula base of advanced mineral compounds designed to lift and break down corrosive, organic material while assisting with contactless cleaning.
Special corrosion inhibiting additives bond to surfaces to protect and preserve your vehicle's paintwork, metals, plastics, and rubbers when travelling on or off-road.
Plant-derived surfactants emulsify damaging compounds and minerals contained in harsh substances making for a safe and eco-friendly cleaning experience.
Salt Shift is officially classed as a "readily biodegradable" formula meaning it passes the test for ultimate biodegradability — the cleanest off-road vehicle cleaner.